Calmare Therapy
Learn more about the history of Calmare, read patient case studies, FAQ's and more at calmaretherapynj.com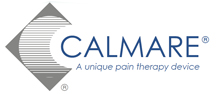 FDA-cleared, non-invasive treatment for severe chronic pain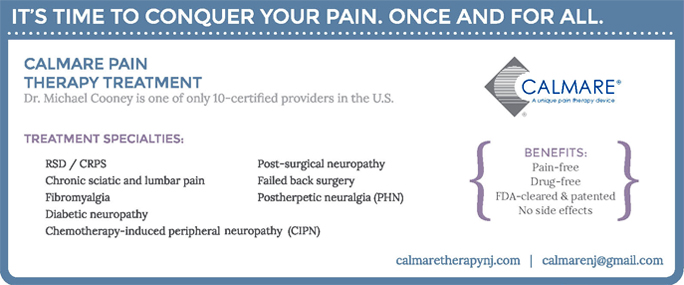 Revolutionary European Medical Treatment Shows Promise For Those Suffering Serious Chronic Pain Due To………….
A Bold Effective Solution To Intractable Pain
A proven, unique non-invasive method for rapid treatment of chronic intractable Neuropathic (nerve) and Cancer - related pain.
Calmare Pain Therapy Treatment (MC-5A) patented technology creates a series of complex artificial neuronal messages that are transmitted to the brain via the body's dermatome pathways.

Calmare is Non-Invasive…..Five Independent Channels are available to transmit the artificial messages via surface electrodes attached to the skin in the dermatome region of the patient's pain.
How Does Calmare Work?
The perception of pain is altered when the artificial messages become more dorminant than the true chronic pain message.
During therapy sessions, when proper electrode placement is attained, patients typically report a complete reduction in pain.

The period of time following Calmare Pain Therapy depends upon the underlying cause of the pain and several other factors.
Call Local & Toll Free (201) 778-2061 to receive a FREE Candidate Screening Evaluation.