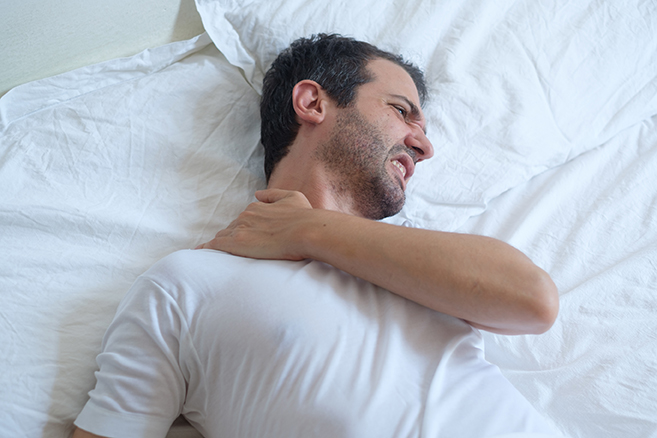 By Dr. Michael Cooney
Clinical Director
Rutherford Allied Medical Group

"I keep waking up with a stiff neck," you say to your significant other. "I'm starting to think something is wrong."
You may be right. Whenever you have recurring symptoms of any kind, it's time to see your healthcare professional to find out what is happening and fix it sooner rather than later.
Repeatedly waking with a stiff neck is likely an omen of an underlying structural issue. Many people experienced previous injuries that affected the structural integrity of the cervical spine, such as old whiplash or another type of joint damage.
For the long-term, these injuries can be triggered again by joint or nerve irritation.
Morning Neck Pain Treatment

The most common cause of neck pain is the contraction of the muscles in the anterior (front) of the neck.
If the pain is primarily in the morning, gentle stretching can help:
•
Gently go through the range of motion (top, side, down, other side).
•
Bend your head back and hold the forehead to exert pressure to feel the stretch in the throat area.
Repeat slowly five times. Trying different ergonomic positions during the day to diminish additional contributing symptoms:
Set your computer screen to eye level or above.
Your TV should be high on the wall
Adjust your car seat so your head is up and looking over the dashboard (without your chin tilting upward)
Always remember muscles move bones, bones do not move muscles.

Pillow Positioning

What you should be trying to maintain is the neutral position. When laying on a pillow, avoid sleeping with your head rotated or tilted. Sleeping on your stomach is the worst position for your neck. Your head, which weighs about 10 pounds, is exerting pressure on the side you are rotating. If you are not a back sleeper, laying on your side is the second best option since you can use the pillow to support the neck and skull in the neutral position. It is imperative to seek treatment if the symptoms persist or worsen. Pain or numbness in any part of the body should never be ignored. Nerve damage can be progressive, so the sooner treatment begins, the better.
Chiropractors
specialize in diagnosing and treating structural issues, including neck pain, using non-invasive treatments that provide quick and prolonged relief. We do not support the use of opioids, injections or procedures that involve causing pain to the patient.
Rutherford Allied Medical Group
has been the gold standard for personal, kind and successful treatment outcomes for more than 30 years. Please reach out to our friendly and respectful team by calling
(888) 933-4443.